News and Events
LoGov-RISE
The Centre is Canada's participant in developing a multi-national project on Local Government and the Changing Urban-Rural Interplay. Each country's research team will study the responsibilities of different levels of government, financial arrangements, and public participation in relation to the growing gap between urban and rural settlements, and to identify innovative practices to respond to these challenges. Prof. Martin Horak is leading this project. Housed at the  Institute for Comparative Federalism at Eurac Research, Bolzano, Italy, the LoGov project has received funding from the European Union's Horizon 2020 Research and Innovation Staff Exchange (MSCA-RISE) programme.
---
Urban Centre will host the Money and Local Democracy Project | June 2022 
The Centre for Urban Policy and Local Governance will host the Money and Local Democracy Project / Projet sur l'argent et la democratie locale, a five-year project investigating municipal campaign finance regulation and local election campaigning. Funded by a SSHRC Insight Grant following pilot work funded by Western Faculty of Social Science research seed grants, the project is led by Western Political Science Professors Zack Taylor and Martin Horak; Sandra Breux at l'Institut national de la recherche scientifique, Montréal; and Kristin Good at Dalhousie University. This mixed-methods project will entail the largest survey of election candidates ever conducted in Canada – over 4,000 candidates in 183 municipalities in all 10 provinces, which are home to four out of five Canadians – as well as analysis of candidates' campaign finance disclosures over three election cycles and in-depth interviews with former candidates and campaign managers. The project will contribute new insights, both nationally and internationally, into whether differently configured campaign finance regimes create more competitive elections, how local candidates campaign, and enduring questions regarding the influence of money in politics.
---
Centre Launch Event
The Intentional City: Shaping London's Urban Future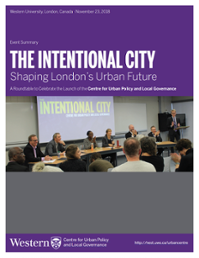 On November 23, 2018, Western's Centre for Urban Policy and Local Governance hosted its first official event: a public roundtable on The Intentional City: Shaping London's Urban Future. This was an important moment for the new Centre, signalling its goal of productively engaging scholars across disciplinary boundaries and building new relationships between Western researchers and the community. Indeed, roundtable participant Neil Bradford noted that "we underestimate Western, the convening power of the university as a neutral third space on issues"—and highlighted the potential for the Centre to play this role. 
London is at a crossroads. Neither a core global city nor a place left behind, it occupies the open middle ground of Ontario's and Canada's urban future. What kind of future do we want for London, and how do we get there? Who should lead, and who needs to be at the table? What can London learn from other mid-size cities? Fundamentally, can London be an intentional city—one that knows what it is, knows what it wants to become, has assembled the resources, including community and intergovernmental support, to get there?
Moderated by the Centre's associate director, Prof. Martin Horak, the roundtable brought together civic leaders and academics for an open public discussion of these questions. Five panellists participated: Pierre Filion, Professor in the School of Planning at the University of Waterloo and an expert in mid-sized cities; Arielle Kayabaga, Councillor-Elect for City of London's downtown Ward 13; Michelle Baldwin, Executive Director of London's Pillar Nonprofit Network and Co-Founder of Innovation Works; John Fleming, Managing Director of Planning and City Planner for the City of London; and Neil Bradford, Professor and Chair of the Department of Political Science at Huron University College.
News Archive